Nightlife in Bangkok: The Beating Heart of the Capital
Ask anyone who visited Bangkok and they'll confirm the city comes to life after sunset, or at least its heartbeat increases at night (because Bangkok is already lively during the day). Okay, maybe they'll only tell you that the nightlife in Bangkok is a must see for anyone traveling to the capital. I solely dedicated the third level of Exploring Thailand to the nightlife in Bangkok through my lenses and senses.
Although our stay in Bangkok was a short one (3-4 days), we had experienced the top-rated locations for Bangkok's nightlife: Chinatown and Khaosan Road. Therefore, this specific floor—Nightlife in Bangkok—is broken into two sections: Chinatown and Khaosan Road. Let us walk through the Chinatown side of the floor first and then take a ride to Khaosan Road using a tuktuk.
---
Car, motorbikes, and tuktuks (three-wheel motorized vehicle) left trails of exhaust smoke and the sound of their engines. My friends and I started our exploration of Chinatown at its primary artery—Yaowarat Road—a really long road that contained, one could almost say, the entire Bangkok's Chinatown. Whether one walked on the left or the right side of the road, there were shops and restaurants on either side.
The road was so wide that it could fit at least five lanes, but of course lanes were only guidelines for the drivers, more like suggestions where one should drive than strict. My friends and I started at the left side of the road, walking north. 
We walked slowly, breathing in the atmosphere that surrounded us. Many people like ourselves—travelers—and locals walked in our area, each one exploring the place and many of them keep to themselves, rather than embarking into new conversation. It seemed as though the only ones who were open for conversation with anyone were the shop and restaurant owners. Their attempts to pull travelers into their shops failed with many travelers. My friends and I waved them down as we continued looking just above us.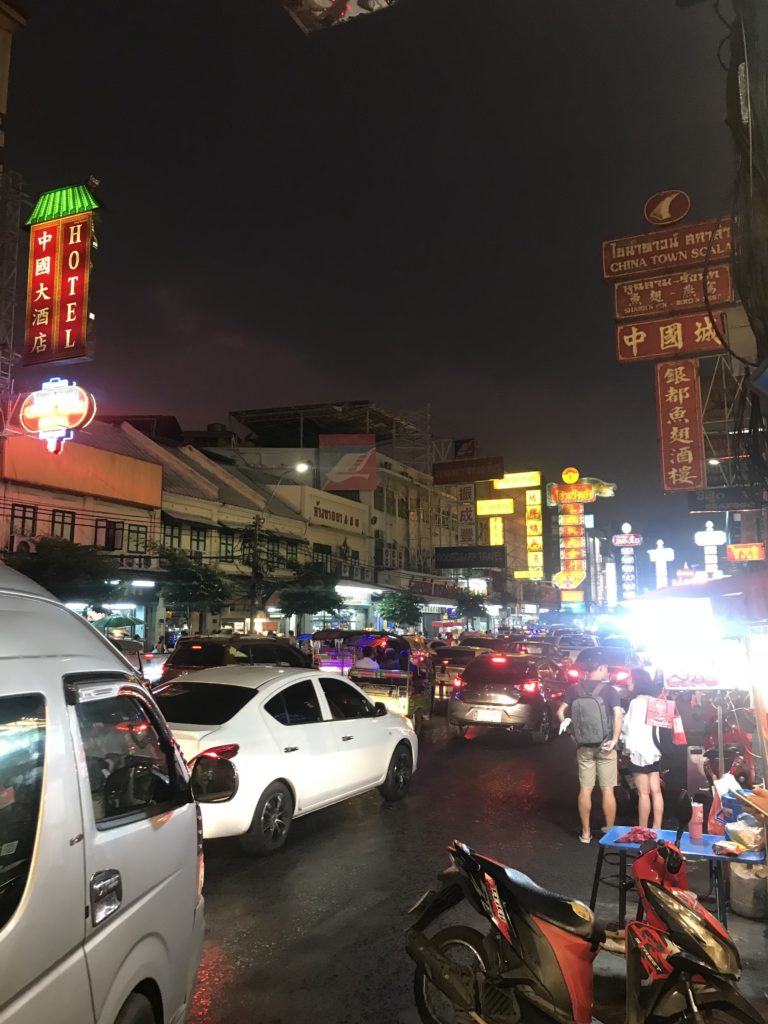 One key aspect of the nightlife in Bangkok was the enormous billboards. They were attached on each building's edge, displaying in bright lights a few words that were foreign to us. These billboards appeared as though each one wanted to grab attention from the travelers. Almost as if calling out: Look at me, read me, don't read the next board! I am the main attraction of Nightlife in Bangkok. Read me, I'm brighter than the next. Some of them had English letters, but other did not.
The smells of the restaurant came at us from every angle — each one with one purpose: drive the walkers into the store. There were so many shops in so proximity to each other which it made it almost impossible to pinpoint the specific location of a scent. They were all potent smells of different spices. Once we tried following a scent, another one would divert us, and that continued on, until we reach a store that sold food that resembled none of the scents our noses took in the beginning. But of course, we had our dinner before entering Yaowarat Road so if anything; we were on the lookout for snacks, which were sold in small carts by locals.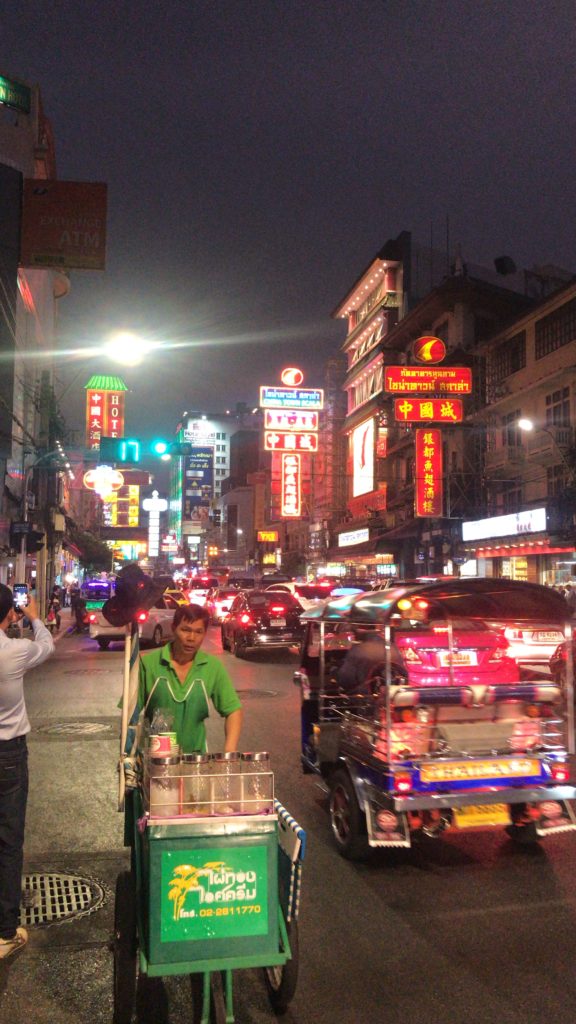 While we ate our dinner, the rain came down with such intensity that some of the humidity had disappeared from the air. But all that was short-lived — the rain falling and the humidity disappearing. The humidity crept back into the air as we continued on Yaowarat Road.
Reaching the end of the road, we searched for a tuktuk because Khaosan Road was a bit of a distance from Bangkok's Chinatown. Our next "nightlife in Bangkok" adventure waited for us on Khaosan Road. Lucky for us, there was a group of them parked at the end, watching out for a group of foreigners.
As soon as a few spotted my friends and me, they waved and called out to us. It felt as though being attacked by a group of prey. Each one wanted to grab us and charge us the most for the tuktuk ride. I knew the games they played, as I had an experience of similar situations in Morocco. I took the lead, and my friends followed me from behind. 
"Khaosan Road?" I asked the closest person, pointing at his tuktuk.
He looked at us, pausing for a moment as if trying to choose an outrageous price but hiding that it was one. "You three. Three hundred baht."
I replied almost immediately. "That's too much." I should cut the price down at least by half. "One-fifty for three."
"No. No," he said, smiling a bit. "That's too low."
"Okay, I'll check with the others, and see if it is." We left the man standing in his spot, contemplating to himself. As we walked about three steps aways, he called us over.
"275 baht is a good deal."
I turned around, my face serious. "150 baht for three." He waved us away, and we walked to the next TukTuk driver. After walking around for a few minutes, we found the TukTuk driver who agreed to get us to Khaosan Road for only 200 baht.
The ride to Khaosan Road was a wild one—a natural experience for anyone in search of nightlife in Bangkok. The TukTuk driver weaved through traffic, and since the three-wheeled vehicle was open, the air ran through us, matching the speed of the TukTuk. 
---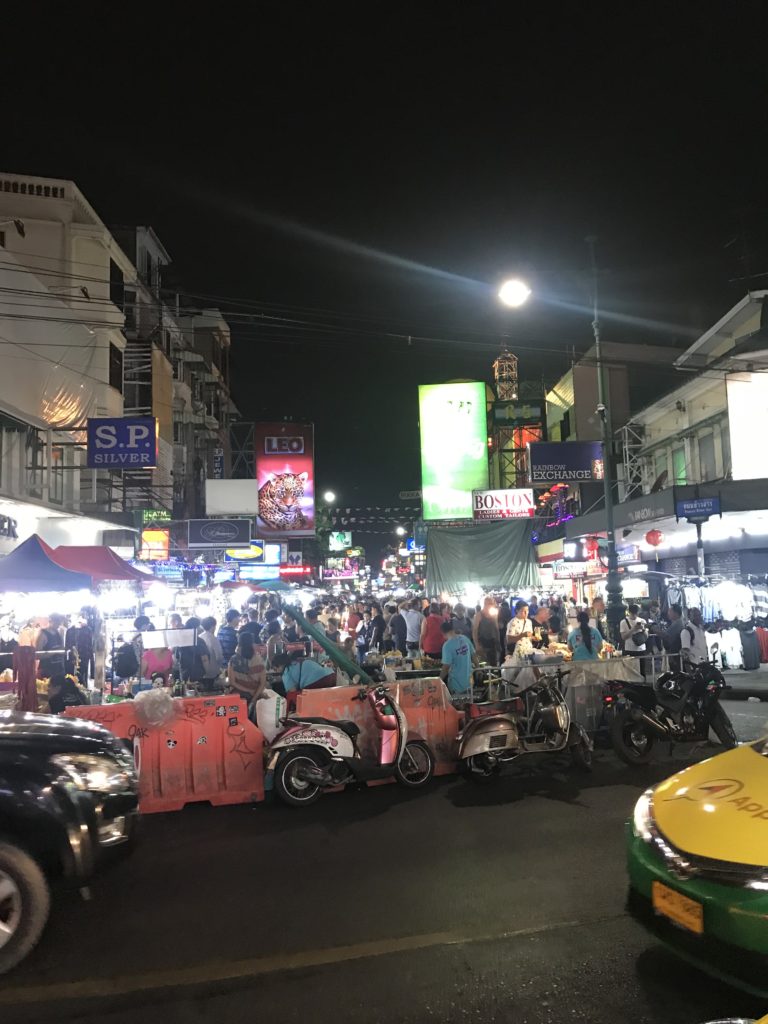 The Nightlife in Bangkok continued to Khaosan Road. It was like Yaowarat Road with the only exception being that Khaosan Road was blocked to traffic at night. My friends and I paid the TukTuk driver and then looked into the Road. I loved the feeling of being around the scent of food, commotion between travelers and locals, and experiencing new life that many Bostonians had no clue existed. Looking across the perpendicular road to Khaosan Road, I took in the atmosphere that we were seconds away from entering. The atmosphere that would hug me with new scents, new conversations, and seeing people from around the world with one purpose as any traveler there: exploring Khaosan Road. 
The three of us cross the small road and passed through orange roadblocks that protected the people from the ongoing traffic from the perpendicular road. After the first few steps inside, I noticed the abundance of food shops. Many of them were small carts, and one or two locals sold food on. They were surrounding the area, and wherever I looked, my eyes picked up on at least one or two of these. Some of them let up the smoke of the food cooking into the air.
Lively shops populated both sides of the road, of many kinds, from restaurants to currency exchange to clothing shops. They were all there, and each shop had it's one or two employees who insisted on calling every person they made eye contact with. Avoid eye contact and you should be good.
The three of us walked along the entirety of Khaosan Road, soaking in the surroundings. My nose was lost in the scents of spicy, oily, and dry food—each angle brought in a whole different perspective—and my ears took in the mixed commotion from the "Khaosan Road" walkers and occasional music that played just outside some restaurants. It truly felt as if we immersed completely into the nightlife in Bangkok. I couldn't imagine a better way to end the night. It wasn't until our senses were satisfied and our legs burnt out that we grabbed a taxi back to the hostel, ending our "nightlife in Bangkok" exploration.